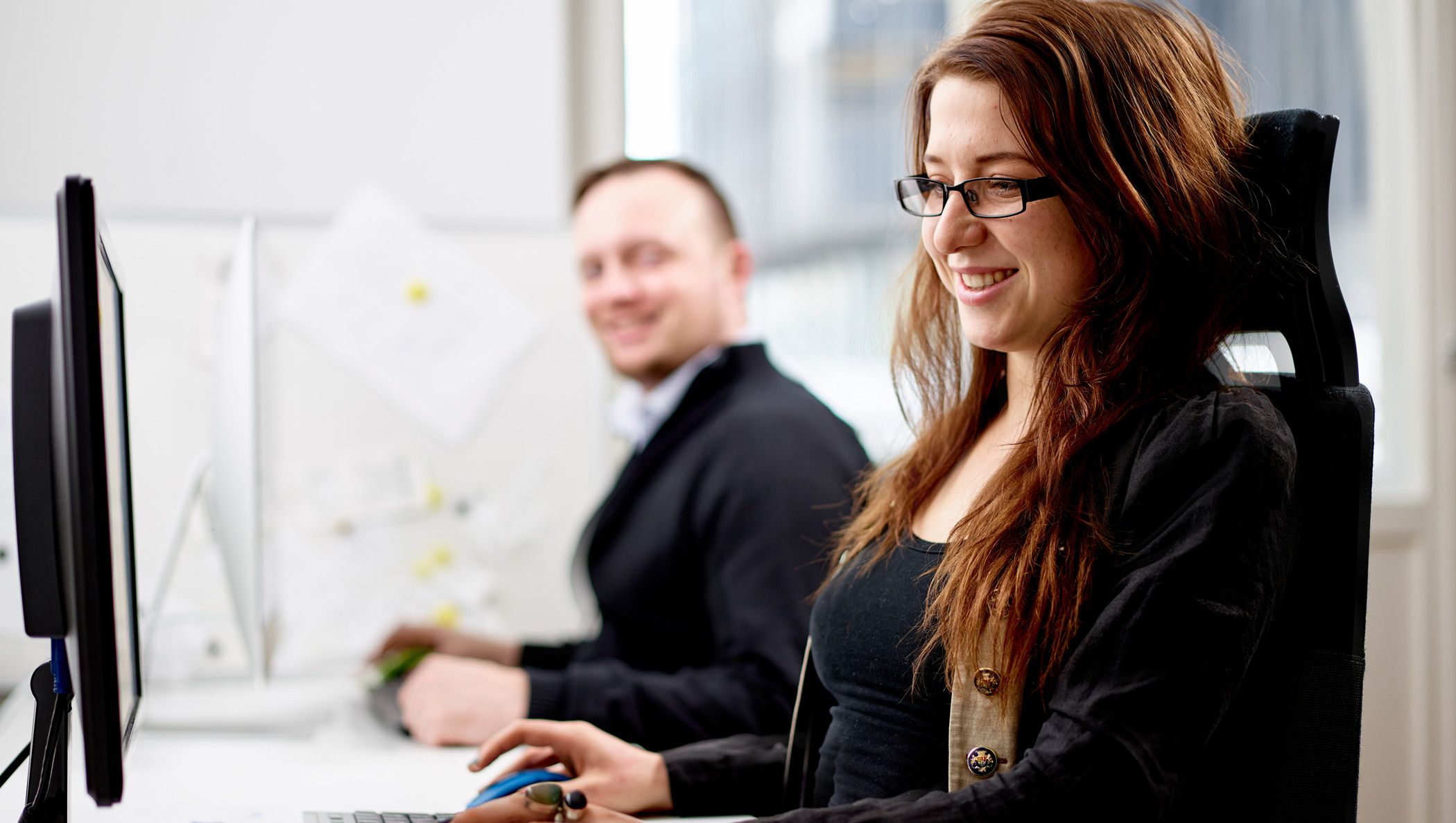 Colleague Wanted - Frontend Developer (m/f/d)
Do you love developing interactive web applications and preferably with React, Angular or Vue.js? The Ventzke Media team is looking for an experienced front-end developer with strong software architecture skills, fresh ideas, and a passion for solving user problems to create a truly outstanding product experience for our clients.
About us
We are Ventzke Media, a creative tech team from Berlin. Our international team of developers includes frontend and full-stack developers. Collaboratively we work with other developer teams worldwide. Our core business is the development of digital products, from corporate websites to e-commerce platforms for global players and mid-sized companies. For start-ups we act as a lead agency and take over the complete product development as well as the market entry.
What we offer you: 
You have flexible working hours and 100% home office options with us.
Are you looking for a 50%, 75% or 100% position? No problem, we are happy to adapt to your personal work-life balance.
We offer you a very broad range of tasks with varied projects for well-known customers.
We work in a Scrum culture with flat hierarchies and short decision-making processes.
You will be directly involved in ongoing projects and customer communication.
We are an agile interdisciplinary team working on challenging topics.
We offer you a beautiful office with old building charm directly in the Schloßstraße next to the city hall.
What you'll do with us: 
You work in a hands-on team to push code several times a week.
You develop the frontend for user interfaces and implement single-page applications for various industries. Industries.
You plan and develop large projects like e-commerce applications, corporate websites or product configurators.
With your empathic nature you are in daily contact with our developer team.
In addition, you like to break new ground in frontend development and also question the tried and tested. We are happy to offer you the necessary freedom!
When you fit in with us: 
You are a real team player. One for all, all for one - that is your and our motto.
You speak fluent English.
You already have more than 3 years of frontend experience under your belt.
You have good knowledge with React, Angular or Vue.js.
You can handle TypeScript with confidence.
You bring good knowledge with Node.
You know Responsive Design frameworks like Bootstrap in your sleep.
Your knowledge with RESTful APIs is sufficient to create endpoints and connect applications.
You have very good knowledge with versioning systems wit Git, SVN and precompilers like Sass, Less etc..
You put a lot of emphasis on code quality.
In your way of working you combine openness and flexibility with a high motivation and a lot of initiative.
You keep track of several projects running in parallel.
Technologies and services
Five reasons for applying to us

Working as a frontend developer in our team means a rapid improvement of your skills. By working directly on projects of all sizes, you get an insight into the daily customer business and thus a quick feedback on your work.
We work independently of industries, which means no monotonous work on one project. In addition to startups, associations, hotels and well-known brands, we also work for artists and universities. We treat each project as if it were our own.

We always work on the pulse of time and constantly develop ourselves and our methods in the field of frontend development. By working on our own projects, we test current technologies, methods and trends and can implement them directly after a short training period.

We regularly plan joint activities. This starts with go-karting and ends with a trip to the Berlin pub scene and fun conversations.

Overtime? That doesn't usually happen at our company. Do you start work at 9:00 a.m. sharp? That doesn't happen with us. We respond individually to your wishes as a frontend developer and thus create a relaxed working relationship by adapting to you.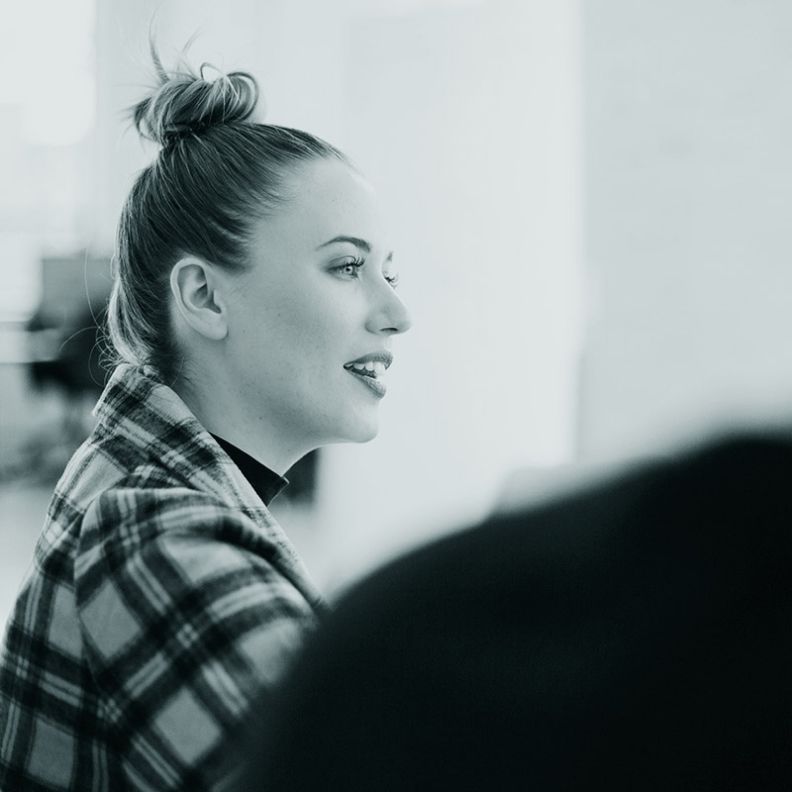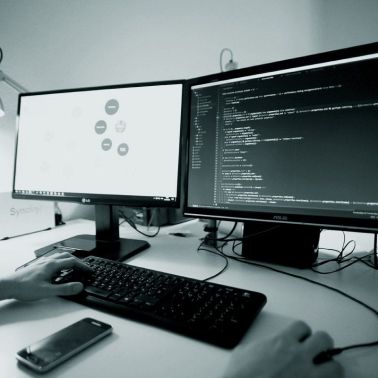 Frontend development process at VM
We love React and TypeSript – Frontend development
We see the development of the front end as an independent discipline and have experts on our team who can cover all important aspects of a state-of-the-art web front end. At Ventzke Media, front-end applications are always fully responsive in HTML5, CSS3 and with the help of JavaScript, jQuery, Ajax, TypeScript or JSX. We use CSS frameworks such as Bootstrap, Foundation or UIkit and JavaScript frameworks such as Angular or React. All templates are implemented according to the "pixel perfect" principle.
Node.js is king! – Backend development
For the development of our backend applications and REST interfaces, we mainly work with Node.js. The development with Node.js enables a fast implementation of powerful, robust and scalable applications and server backends. In connection with database systems such as MongoDB, CosmosDB or PostgreSQL, Node.js forms the ideal basis for our projects.
Cloud-based applications – Individual software development
Another core competence of Ventzke Media is the development of web applications with technologies such as Angular or React. These high-performance JavaScript libraries developed by Google and Facebook work according to the Model View Controller (MVC) architecture pattern with the support of the Flux / Redux concept for creating the respective application states. With this method we separate the programming logic (backend) and the design logic (frontend) from each other. This makes it easier to carry out the developments in the backend without having to adapt the design of the application.
Testing, testing & testing 😄 – Quality assurance & testing
To ensure quality, our project managers monitor the entire programming process with regard to performance, functionalities and user experience. After completion of the development, the result is tested according to the same criteria.
At Ventzke Media we rely on automated processes, among other things. which make it possible to ensure consistent quality with increased productivity and higher development speed. These cyclical tests are called regression tests. So that every team member in a project is encouraged to integrate high-quality applications, central services are available that monitor the quality. These are CI (Continuous Integration) servers. At Ventzke Media, we use Jenkins, among others.
The technical implementation of the front end is basically implemented in accordance with the standards of the W3C defined in the project, apart from older browser compatibility. Validity and a minimum of warnings are guaranteed. The W3C validator is used for testing. In addition, we check the developed application for speed, image compression and script files with Google's PageSpeed ​​Insights tool.
Frontend performance optimizations at a glance:
Script minifying and merging
Optimized expire headers
Use of icon fonts
HTTP compression / Gzip compression
Web browser prefixes
No unnecessary DOM elements